Yipeee! We received and accepted our referral!  Yesterday and today have been very exciting days for our family, also very tiring. We received the referral for our Daughter, Nara Josette yesterday and made it an official request tonight!

She is precious, a jewel

. Her Chinese name is Qin Ji Hong, she was born November 26, 2007 in Xianjang City, Shaanxi Province in China. Ji Hong was brought to the orphanage when she was one day old and seems to have been very well cared for and hitting most milestones, especially considering her circumstances. She lives at the Xianyang Social Welfare Home (the orphanage for her region). 
Ji Hong's is considered special needs, but it's just amazing that could be true. She had a cleft lip surgery when she was 12 mos. old and will need another in a few years.  In one of the three pictures that we received of her, she is even smiling with a beautiful smile and a little headband that has red horns on it (not sure about that, I think maybe a bow would do ;-) ). How Miraculous - we cannot wait to meet her! We will post some pictures as soon as we can. 
She is about 2 months and a week older than Whit. We truly know that we are already blessed by God allowing us the honor to be her family and finally bring her home to join us. The boys are very excited about us finally "finding out" where she is in China, so that we can go get her and bring her home. We hope to receive our Pre-Approval in about 2 weeks, which will mean that the CCAA has accepted us as Ji Hong's parents. We hope to be given Travel Approval for December or January.... Still lots of 'loose ends' to tie up with our dossier, authentications, etc.
Today, God has really reminded me to Thank Him for this blessing, Thank Him for allowing us to parent each of our children and to live on this earth each day. We know that we are not promised another breath, yet so much of our time we waste in trivial ways. God is our source of Life and He has given us the great commission to spread and share his Love in this world. For our family, this has especially grasped our heart for orphans and adoption. For others of you, God may ignite you in another way. Thank you God for your Crazy Love and our challenge to Love you Like Crazy as well.
(from Francis Chan's book, CrazyLovebook.com)
Please pray for our family; for God to guide us on this journey, for all of the kids during the process, the expediency of the process, as well as our agency, the gov't. agencies/officials, and her caregivers. We're so excited to bring you home to your Dad, Mom, and three Brothers!
Xianyang City, Shaanxi Province
Xianyang Welfare Home in the Shaanxi Province of PRC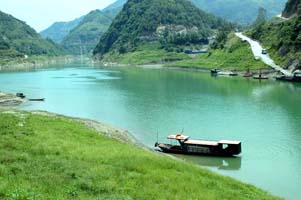 Hanjiang River in Shaanxi Province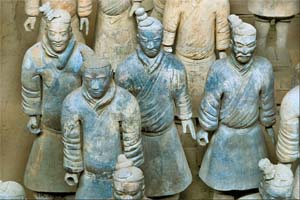 Terra Cotta Warriors in Shaanxi Province